the 17th century
The presence of the Principi Pallavicini family in the Lazio region can be traced back to the second half of the 17th century with Niccolò Pallavicini, followed by a succession of socially important individuals, including a Pope, Clement IX, various Cardinals, including Giovanni Battista Pallavicini and Lazzaro Pallavicini, and the first Mayor of Rome, Francesco Pallavicini.
The Palazzo
In 1670, Giovanni Battista Rospigliosi married Maria Camilla Pallavicini, the niece of Niccolò. In 1704 he bought the Palazzo del giardino in Monte Cavallo, which became the Rospigliosi Pallavicini family home.
Palazzo Rospigliosi Pallavicini
The Palazzo is still owned by the family today.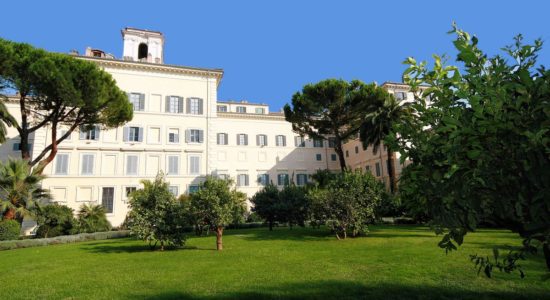 The Region
The Properties
The Pallavicini family have owned properties around Rome, Colonna, Gallicano and Cerveteri for centuries.
The estates in Colonna, Marmorelle and Cerveteri have a total area covering ​​almost 80 hectares of vineyards.
The historical archives in Palazzo Pallavicini have revealed documents showing that the estate supplied wine to the Vatican and the Queen of England.